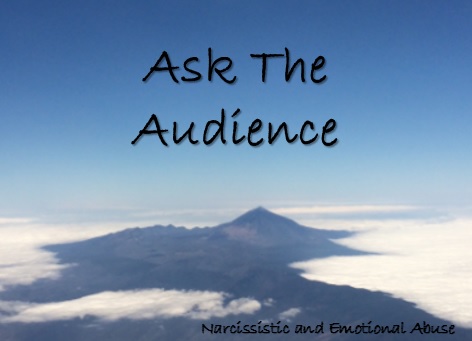 Ask the group please as I am stuck: my narc boyfriend and I have a 5 month old. We live together in my house. Despite drunken verbal and emotional abuse and condescending, passive aggressive barking about every little thing in my home, I walk on egg shells and became this submissive, weak person who rather acquiesce than stand up for myself because I would rather keep the peace.  After a domestic incident in February and escalating emotional and verbal abuse, we started counseling and it has given me the forum to speak and feel freely. And after a sobriety agreement, he broke that and lost my trust. Then last week for my birthday, another unnecessary fight ensued and I overhead him on the phone soap-boxing the smear campaign and spreading lies and inaccuracies.
My 12 year old daughter lives with me part time and she has seen some of his nastiness and sees his manipulations…he is baiting her favour and trying to gain her sympathy and pity for his case, which infuriates me.
For the sake of the baby, well…everyone really, I asked him to move out and he won't. I want a family and he is getting his own counselling now, I am too, and he swears he is going to change. I want to keep my family together but I don't fully trust he is changing…just that he is trying to win me back and avoid missing his baby's life. I sense desperation but wonder if I am giving up.
Do I stay or go?