Pathological Lying
Pathological Lying
THE NARCISSIST AND PATHALOGICAL LYING
A pathological liar lies compulsively and impulsively almost without thinking about the consequences.
Pathological lying is likely to occur with people who suffer from certain personality disorders.  Narcissists are skilful liars who tell lies in order to hurt and harm everyone who comes into their lives.  They also tell the truth in misleading ways to give others incorrect perspectives.  They study the person they hope to take advantage of looking for signs of weakness.  Liars don't care about your feelings and never will.  A pathological liar shows no emotion when lying which is why they are so often believed. Many have been known to beat a polygraph.
'There'll come a time when you see them for who they really are…
A phoney, a liar and a loser.
And when that time comes,
Their opinions and even the mention of their name
Won't mean a thing.'
Some scientists believe that narcissists lie in order to get attention, to make themselves appear more interesting.  In fact, some will  even tell lies that are self incriminating.  Some narcissists lie in order to paint themselves as a victim to gain sympathy.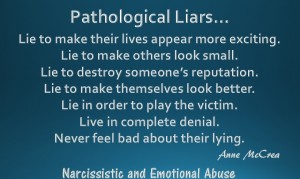 People with low self esteem are more likely to resort to pathological lying in an effort to make themselves look better than they believe themselves to be.
When caught out on their lies, narcissists often become extremely defensive and try to blame others.  They may fabricate more lies to cover up the original lie.  Some react with anger and rage and may retaliate.
Pathological liars often have difficulty maintaining consistency in their lives and often cannot sustain healthy relationships and become estranged from their families.
'I've learned many of life's hardest lessons from a few messed up people.'
They do not appear to learn from their mistakes and probably never will.
Written by Anne McCrea