Narcissists And Friendship
Narcissists And Friendship
Is a narcissist capable of being a true friend?
Friendship is built upon trust, loyalty, empathy and having mutual respect for each other.  Narcissists do not possess any of these qualities and as such do not make meaningful friendships.  The narcissist does not need friends.  They need Narcissistic Supply.  Any so called 'friends' are seen simply as a source of that supply.  Acquaintances tend to come and go throughout the narcissist's life.
As with any relationship with a narcissist, 'friendship' with these individuals often gets off to an excellent start.  People are impressed and fooled by their charm and charisma.  Unknown to them, they are manipulated and used for a time until the narcissist no longer sees them as a good source of supply.  At such times these so called friends are devalued and discarded.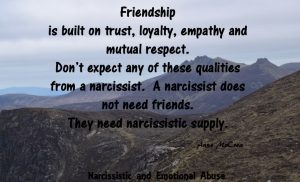 As time passes, people, even those who have hung around for years, usually see the narcissist's true colours and how they treat others.  If they have not yet been abandoned by the narcissist, they become sickened by their behaviour, by their moods, their continuous conflicts, by their complete disregard for other people's feelings, by their delight at ripping people off and putting others down, that they eventually do the abandoning and leave the narcissist to drown in their own cesspool which they, themselves, have created.
Time has a wonderful way of revealing truth.  The narcissist's social circle vanishes.  They are no longer tolerated by those who realise that there is absolutely nothing to gain from holding on to ties with this toxic personality.
Will the narcissist blame others for the situation that they find themselves in?
More than likely.  They have alienated everyone who has had the misfortune to walk into their lives but somehow they fail to see that their abandonment has been their own doing.
Written by Anne McCrea