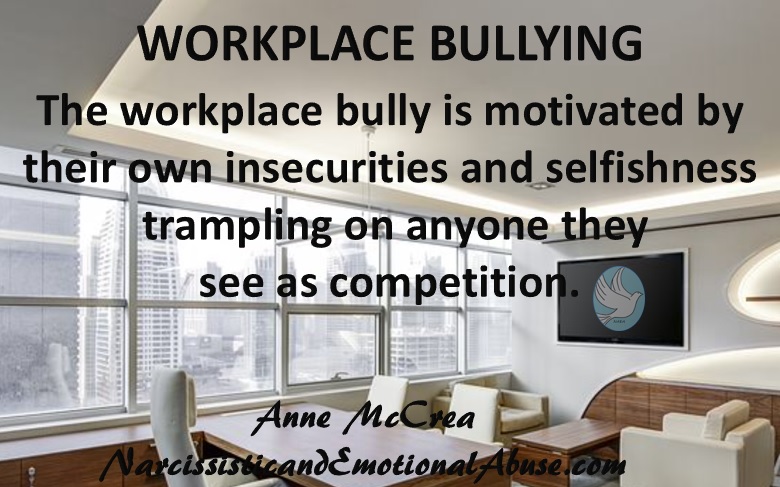 Narcissism / Mobbing in the Workplace
Narcissism / Mobbing in the Workplace
Narcissists don't think that normal rules of decency and morality apply to them. They have no qualms in intimidating and harassing their employees or co-workers and making their lives miserable.  Taking credit for another's work, blaming others for their own mistakes, outbursts of rage, jealousy when other workers are better or smarter than they are themselves, are all commonplace.
Narcissists pretend well.  They often appear to be charming and considerate but it's the covert put downs and subtle digs that often go unnoticed by many.
If a narcissist is in a job that they cannot do very well, they will resent their co-workers who can do the job so much better and these feelings of 'someone being able to do the job better,' will give the narcissist a valid reason to target them.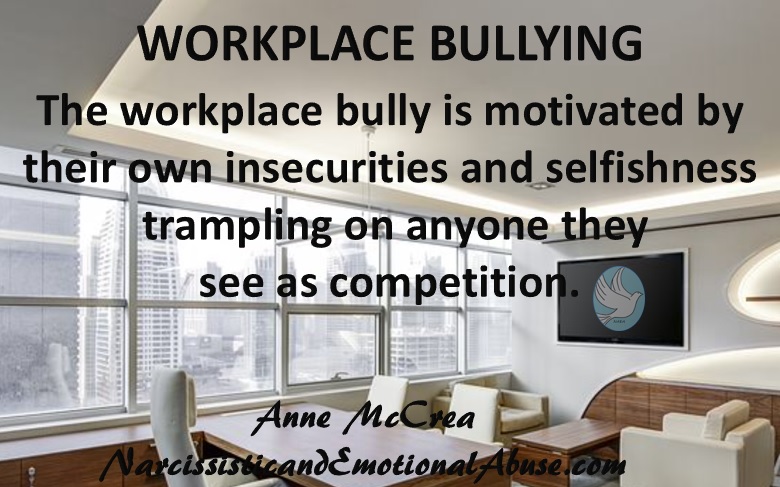 The person being bullied may feel intimidated, offended and unjustifiably criticized. The workplace bully abuses their co-workers motivated by their own insecurities and selfishness. Their desire to succeed is foremost in their minds. In order to achieve their goal they will trample on anyone who they see as competition. Bullying in the workplace can take many different forms such as:
Discrediting someone's reputation with lies and gossip.
Sabotaging a colleague's work.
Isolation / ostracism.
Refusing to answer their telephone calls or emails.
Being regularly undermined.
Failure to provide the necessary information, equipment, tools for the task in hand.
Withholding important information such as deadlines, meetings and social gatherings.
Threats of job loss.
Being rude and talking down to colleagues.
Stealing and then accusing others of the theft.
Having your right to training or promotion denied.
Verbal abuse.
Unfair treatment.
Reacts to criticism with denial and blame shifting.
Moves on to a new target once their present target has left.
Mobbing is an insidious form of psychological abuse committed by a group of people and has devastating consequences. Studies have proven that people in a group will behave in a manner that they would never do alone. Normal common decency is cast aside and someone who was once a valued member of a group, is shunned and ostracised. The person is excluded from work meetings, social events and their very presence is not recognised. They are often falsely accused of wrongdoings and find themselves the subject of gossip and slander. People find themselves being attacked by their co-workers, superiors and subordinates. Over a period of time, possibly weeks or months, this form of abuse will chip away at someone's dignity and their self-respect. We have to remember that human nature dictates that we have an inherent need to belong. Although the scars left by this particular form of abuse are not visible, they are long lasting and more painful than physical wounds. Long term ostracism often results in alienation, low self-esteem, depression and physical illness. Shunning is an act of aggression which can have deadly consequences on the target. There will be those in the workplace setting who may not take an active role in bullying a target but they cannot shirk responsibility for their inaction. Their failure to take a stand, their lack of integrity and their inaction has enabled the abuse to continue. The longer their behaviour continues, the harder it is to bring it to an end. Suggestions for those who are being bullied or harassed:
If the problems cannot be sorted out informally talk to…
Management
Human Resources (HR) department
Trade union representative
If harassment continues most countries provide legal action through employment tribunals. It is not advisable to turn to your abusers for their approval. Choose to be in the company of people with morals and integrity, people who have whatever it takes to stand up against the crowd, to stand up for honesty and human decency. Abuse is often directed at one specific target and may go unnoticed by management and colleagues. In some cases, management may be at the helm of the abuse in an effort to force the target to resign.
When things go wrong, don't expect the narcissist to accept the blame.  It's not going to happen.  It's got to be someone else's fault.  You may think because you are efficient at your job and have great results, that the narcissistic boss will be thankful.  They won't.  It's a reflection on them, you work for them and they trained you to do the job.  Your outstanding contribution will all be down to them so don't waste your time trying to convince them otherwise.
Don't be fooled into becoming 'friends' with the narcissistic boss or co-worker. Their view on friendship is totally different from a normal person's understanding of what friendship really is.  If they are being friendly, it is because they want something from you.  If you are of no use to them, they don't want your friendship.  Don't go down that route.
The narcissist boss will obtain narcissistic supply by denying their workers their entitlements. Don't expect them to abide by rules or regulations. Normal rules and regulations don't apply to them. A good boss will have respect for their workers and should quickly notice if there is someone been bullied in the workplace.
Possible signs of bullying may include:
A drop in the standard of an employee's work for no obvious reason.
Long term sick leave due to stress.
Employee seeking early retirement.
Succession of people leaving employment unexpectedly.
Some employers will not acknowledge that there is a problem in the workforce and fail to address it as they should, and may even try to conceal it. They should note that a happy workforce is a productive one and that failing to address bullying may have a profound effect on the business as a whole.
There's a big difference between a firm hand and an iron fist. Employees can be motivated by being valued and encouraged rather than through fear. This is what separates the good boss from the bad.
Written by Anne McCrea
Narcissistic and Emotional Abuse, Shattering the Illusion, now available on Amazon