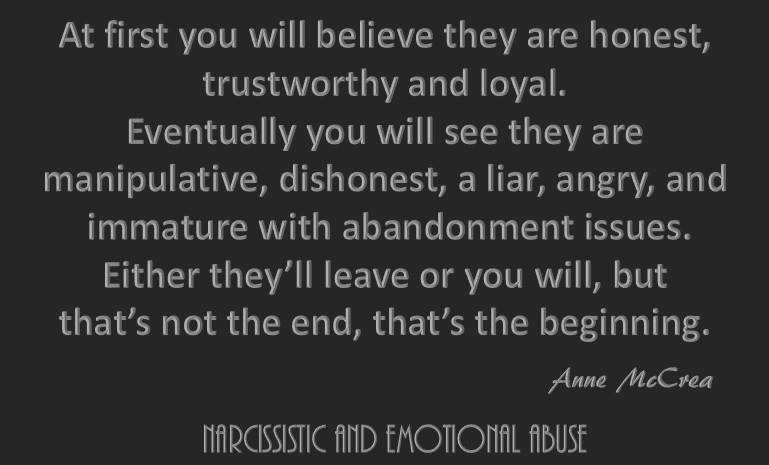 Idealise, Devalue And Discard
Idealise, Devalue And Discard
The Repetitive Programme Of A Relationship With A Narcissist
The majority of people who enter into a romantic relationship do so in the hope of finding lasting love with another human being.  They have a mutual respect for one another, empathy, emotional attachment and all the other feelings that go hand in hand with a healthy, normal relationship.  A relationship with a narcissist is anything but normal.  Their emotional maturity has not developed in the normal way and as a result they become emotionally stunted adults unable to sustain a long lasting mutually loving and respectful bond with another person.
'I have to warn you. Before we start, you should run. Don't look back. Forget you ever met me. I will break your heart. I will not regret. I will fall fast and hard for you. I will love you to the point of exhaustion. I will make your family and friends love me. I will give you hope for a perfect future. I will speak of marriage and kids. I will get bored.
I will lose all interest in you touch, your word, your life. I will pull away without explanation. You will try to remind me of the good days. I have already moved on.
You will defend me to your family and friends. I will pretend I have never met them. I will not stop until you hate me more than you ever loved me.
Like I said, run, but you won't…
You think you can fix me. You are wrong.
A.G.S
A typical relationship with someone who has NPD will follow three phases…
Idealise
Devalue
Discard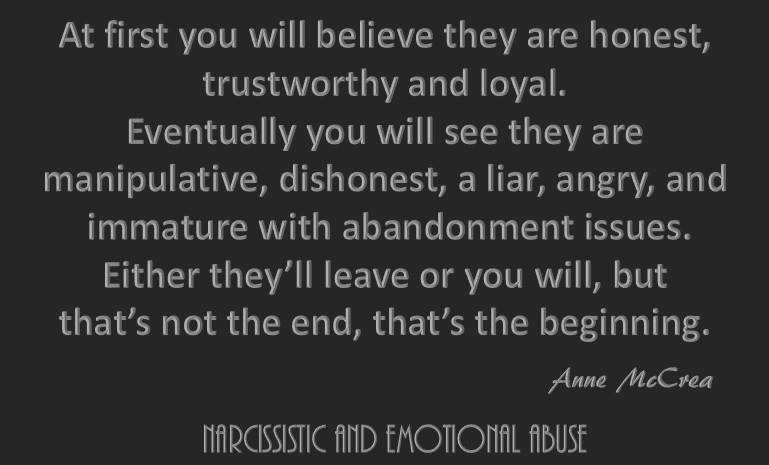 Dictionary definition:  'Regard or represent as perfect or better than in reality,'
'Be unrealistic about, look at something through rose-tinted glasses, paint a rosy picture of, idolise.'
During the initial stages the narcissist will be on their best behaviour.  They have a great ability to appear charming and charismatic.  They'll shower you with love and attention and have you believing that you have met your soulmate.  They give you the impression that they are everything you ever imagined in the 'perfect partner.'  They are quick learners and by listening and watching you closely, they will pretend to be that person you've been looking for all your life.  They have the same values, standards and principles.  How could you have been so lucky to have found someone who mirrors you and all your hopes and dreams?
The narcissist needs people in their life more than any other.  They need what is known as narcissistic supply.  They need your attention and your admiration just as a plant needs water.  Without it, they wilt.  They are unable to form a bond with anyone but are experts at manipulating you into bonding with them.  Nothing about this idealisation phase is real.  It's all a sham.  The person who you think they are is really an accomplished liar and actor.
This stage may last for weeks, months or maybe even a year, but it is an illusion.  This relationship WILL move on to the next stage and you'll be left reeling, wondering what on earth just happened.
Act II – Devalue
Dictionary definition:  'Fail to appreciate, underrate, rate too low, think too little of,'
'Not do justice to, do an injustice to, play down,  diminish, minimize, downgrade, brush aside, gloss over, shrug off, belittle, hold cheap.'
A narcissist's attention span is rather limited.  Once the narcissist believes they've got you where they want you, they get bored.  This is the phase when you will see the real person, the empty shell of a human being that is the narcissist.  They come to despise their own dependence on you, their supply and so their devaluation will begin.  They've learned a lot about you in Act I and they will use every piece of that information, embellish it with lies and use it to discredit your reputation in an effort to destroy you.  You may see the narcissist pull away from you and become emotionally distant, cold and uncaring.  You may find you are being constantly criticised, from your appearance to the way you walk, and no matter what you do, it will never be right.  Your feelings of self worth are slipping fast so you will tolerate more and more of their deteriorating behaviour.  Confused and alone, you'll try harder to please the narcissist.
Why do you stay?  You stay because you're still holding on to the memories of who they were before, and you desperately hope for a return to those good old days.  The narcissist is a master of manipulation.  They will let you see glimpses of that person they were before just to keep you in their clutches.  This particular form of intermittent reinforcement and then punishment develops into the most powerful of emotional bonds and attachments.
Although at this stage, you are providing your abuser with endless narcissistic supply, they don't like the weak individual you seem to have become, (never accepting responsibility that it was their sadistic mind games that made you this way).  
Act III – Discard
Dictionary definition: 'Get rid of (someone or something) as no longer useful or desirable, to cast aside or dispose of, to reject.'
By this time your self worth is somewhere in the gutter, you may have been isolated from everyone you once held dear because somehow the narcissist managed to convince you they were no good for you.  Close friendships are long gone because the narcissist created friction where once, there was none.  They have succeeded in bringing your self esteem down the level of their own.  It is at this time they need a boost, they need their ego stroked with fresh supply.  You are no longer useful.
They often vanish from your life without warning, initiate one of their infamous silent treatments, no goodbyes, no closure, nothing, zero, zilch.  This type of behaviour is known as 'Ghosting.'  Your emotional needs are of no interest to your abuser.  In their mind, you no longer exist… game over.
In some cases, the narcissist will initiate what they see as inevitable, their own abandonment.  Their behaviour becomes so despicable and intolerable that no one in their right mind would want to be around them any longer.  Yes, you've had enough, enough of their mind games, their rages and their silent treatments, their lies and their anger.  You know when to call, 'Time.'
When that final curtain falls, you will be crushed to your very core, even if you were the one to call time.  Nothing you could have done could have changed things.  This relationship was doomed from the outset.  Nothing you could have done could have altered the outcome.  Nothing can alter their dysfunction.  Making some sort of sense of their dysfunction is not something that normal human beings can fathom.  This is the way the story ends each and every time.
 'Yes, I walked away, not because I didn't love you,
But because I finally learned to love myself.
Oh, how I tried to be good enough,
But in your world no one ever is.
Now that I've gone, I know that I was enough all along
And it was you who fell short.'