Trauma Bonding
Trauma Bonding
When a 'normal' relationship comes to an end the two parties involved will usually spend some time grieving the demise of the relationship.  After some time has elapsed they feel ready to face the world again fully recovered.  However when it comes to the end of a relationship with a narcissist, the recovery period often takes much longer.  The victim, (and that's not a word I like to use in these circumstances but I will do so for clarity) often finds themselves tied to their abuser by some invisible power.  No matter what their abuser has done to them, they feel drawn back into their web, as if they are being pulled back into the relationship and they have neither the strength or desire to fight.  You may ask, 'Why would someone return to abuse?'  The answer to that is a psychological phenomenon known as  'Stockholm Syndrome.'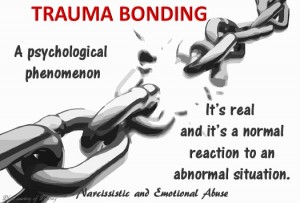 In August 1973, armed criminals entered a bank in Stockholm, Sweden taking four hostages, three women and one man holding them for six days.  By the end of their ordeal, the hostages had surprisingly formed some sort of bond with their captors defending their behaviour to the police.  One later got engaged to one of their captors.  Another paid towards the legal fees of one of the hostage takers.  Subsequently, this unhealthy attachment between a victim and their captors or abusers became known as Stockholm Syndrome or Trauma Bonding.  Patrick Carnes, author of The Betrayal Bond, has stated that all of these relationships share one thing, they are situations of incredible intensity or importance where there is an exploitation of trust or power.
The vast majority of people who become involved with a narcissistic personality talk about their initial feelings of having met their soulmate.  The intensity of the relationship produces feelings that may not have been experienced in other relationships.  During this initial stage, strong emotional bonds are formed.  This misplaced loyalty is always associated with some sort of danger or risk.
This unhealthy attachment is strangely the norm as opposed to the exception.  These bonds are difficult to break and tend to become stronger over time.  When it comes to severing ties with an abusive personality, the bonds may appear to be unbreakable.  The bad behaviour and the lies become acceptable.  The victim longs for a continued connection with someone who they know will cause them more pain.  They find themselves wanting to be understood by someone who clearly doesn't care.  They hold onto secrets and trust people time and time again who have long since proved themselves to be untrustworthy.
These bonds can be broken when there is no contact of any description with the abuser…
Do not text.
Do not make or receive phone calls. (If they ring you from an unknown number, hang up when you hear their voice).
Do not respond to emails.
Block them on social media.
Avoid looking at photographs. (Looking at photographs will keep their memory alive in your mind. It is like opening a wound and not letting it knit together and heal. Close that photo album for the time being).
Do not snoop on Facebook or other social media. (You don't need to know what they are doing or who they are doing it with).
Do not meet up.
If you pass them on the street, look the other way.
If they leave you an email, don't read it.
Avoid going to places where you might run into them.
If you happen to work with them, keep to the rules when and where possible. Keep communication on a business level only.
Some may find it necessary to seek help and support from therapists and / or self help groups in order to detach completely.
Written by Anne McCrea