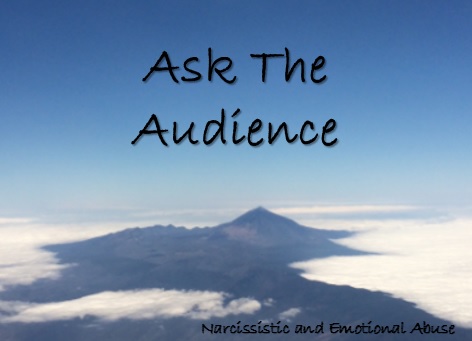 Somebody needs to make him accountable
Somebody needs to make him accountable
The narcissist that I was involved with is a male in his late 40's.  Raised by an overbearing father and a mother who spoiled him, he grew up to become a charismatic guy who can charm the pants out of anyone.  We were in a relationship when I was in college.
We started chatting online when he asked for help about a business that he was planning to start.  I've known him for more than 10 years but we haven't seen each other for almost 3 years.  I wasn't expecting to hear from him after such a long time.  He told me that he missed me and he wants to rekindle the friendship.
So we started communicating almost daily through e-mail.  He kept asking for my number but I didn't give it to him.  He was already married.  He asked me to go out several times but I rejected him.
Eventually he started talking about his personal life.  I felt really awkward but I listened because he's my ex.  He told me that he and his wife are preparing the documents for their annulment but they still live together for the kids.  He kept complaining about her, that he wants out of the marriage but his wife wouldn't sign the papers.  "She doesn't cook for me. I stay at home but all I do is chat with other women because she doesn't care anymore.  She let herself go, I'm not attracted to her. I don't love her anymore. We don't sleep together."  It felt strange that he kept talking about all of his 'crazy' ex-girlfriends, too.  He said that he had a lot of girlfriends after getting married.  He also claimed that he had a few married ex-girlfriends.  Being very open-minded I didn't think that this was one of the warning signs of a narcissistic/sociopathic person. I also thought that he was just feeling miserable because his marriage was about to end and that he has fallen out of love with his wife.
I believed everything he said without verifying facts because I thought I knew him well.  After all we were in a relationship for almost 3 years, and as far as I know he didn't cheat on me then.
So I agreed to meet up with him in a restaurant.  "It's just a business and catch up meeting," he said.
He called me several times the following day, and sometimes even in the middle of the night almost everyday for about a few weeks.  We met up again several times.  I knew it was wrong to hang out with a married man but I was vulnerable at that time.  I just broke up with my boyfriend a few months before.  And yes, I admit that I missed him, too.  I am a very sentimental person.  I'm highly emphatic and naïve, the perfect victim so to speak.  He said that he still loves me and he wants to be in a relationship.  I fell under his spell.  Guess I was also flattered with all the attention he gave me.
I fell for him again because he's a charming, smart, good-looking quirky guy with a good sense of humour.  We had a very intense emotional connection and shared so many things in common.  For several weeks, he called me around 2-3 times almost everyday.
He asked me to be his girlfriend after two months and  I agreed.  He made me happy in a way that only he can.  Or so I thought.  Little did I know that saying "yes" to him would be the biggest mistake I've ever made.
After we got intimate and in a few months' time, the mask began to slip.  He didn't call and text as much as he used to.  He was deliberately withholding affection, sex, and attention.  We used to see each other almost everyday, then he stopped making plans with me.  I feel that he gets angry when I am away from him.  He wants me to stay at home and wait for his text or call to ask me out.  He would often text to say that we are going out an hour before the meeting time.  He gives me the cold shoulder when I don't give him enough attention, or when I say something that he disagrees with, or when I do something on my own like see my friends or visit my family.  He loves to ask me for favours or gifts but never really appreciated them or me.  It was always about him.  Our conversations were usually about him, too.  I tried to talk to him about it but he was the type of guy who doesn't know how to communicate honestly.  He always says, "I miss you," or, "see you soon,"or "I want to spend time with you," but didn't make time for the relationship. "I'm just very busy," is his favourite excuse.  He became inconsistent and didn't talk to me as much as he used to.  He stopped having sex with me but would often suggest doing it and renege at the last minute.  The last time we saw each other he started a fight and gave me the silent treatment.  He said that maybe I should date other men.
Then I found out that he was seeing another woman, and he was using her and all of his friends to spread false rumours about me.  I did a lot of research and discovered that he is a narcissist.
Somebody needs to step up and make him accountable for all the women he hurt. I want people to know what kind of man he is by exposing him, but how?