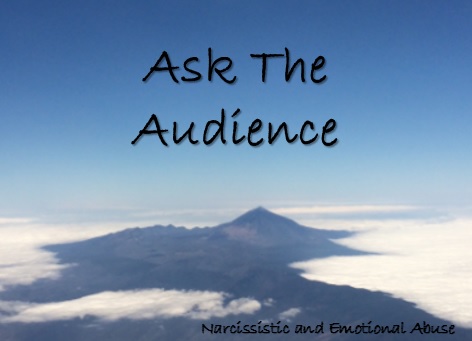 I am confused
I am confused
I am 14 years with a narcissist from 23 years old to 37. I did not know… I started to realize three years ago that something very serious is happening after the first official break up, when he dumped me one day and moved with his new lured girlfriend. 3 months later after no contact he started sending texts, I never replied instead I was consulted by a lawyer to meet him to arrange the paperwork (civil marriage).
For my bad luck, he managed to hoover me back! During these last 3 years his 'ex girlfriend' was always at the background waiting, trying to get him back, compete me etc. she is diagnosed with histrionic personality. How do I know all that ?
She told me everything each time she was dumped by him.  That she committed suicide with pills in front of her child and him. She tried to jump from the balcony. I know these facts also because my colleague is her therapist.
I realized a pattern every 3 months on his behaviour.
On the 1st of July he proposed to me in front of friends to get married in Italy.
2 weeks after he woke up in the morning kissed me for good morning and left for work, three hours later I received a text message!
"good morning my baby love
I love you and I will always love you for ever!
Some difficult facts made us distant to each other. Sometimes we came closer but this was for a while short term, you were always there, I was taking distance from you.  I was fooling around behind your back all the time! You did not find out the most of the times.
A few times somebody told you about it when I was finishing 'something' .
You are always here with this shining smile and the huge hug. Your love so real!
I could not see you in the eyes many times, of guilt and shame and for the 14 years of our love.
But it is not right, I have never made a progress, never, I played a role.
I tried within me with shame.
I believe you must take your own way. You have so many things to offer and I do not appreciate them , nothing…
You have so many people that love you respect you. I only caused shame to you your friends and your excellent parents.
With this decision I erase my self , lock everything for ever so these people to accept me back again  and most important You.
I do not want to lose you and separate from you but I will do the same bullshit again and again always !
I am not the right person for you.
You are ready to have a nice family and career .
Both of us need to do this, it is painful but tomorrow you will thank me for this. 'A week after this text, I talked to him
I asked him why he goes to that woman!
The answer was :
You are lucky, you have so many people that support you and love you.
I am alone, I feel loneliness inside of me, I need to do something to feel better – I need to take advantage of someone- for my ego – to shelter myself! I need someone to be around!
I was shocked !
How come he undressed his soul to me? Why he seems to be so frank? Why he said all these things to the message, he admitted everything!
I am confused because it is not his style.
I have no contact with him for 3 months! He was supposed to arrange the divorce but until now I have no news from his lawyer and of course I do not want to contact directly to him.
Please enlighten me!