The Narcissistic Son Or Daughter
The Narcissistic Son Or Daughter
HOW DO YOU DEAL WITH THE NARCISSIST WHEN THEY ARE YOUR CHILD?
One topic in the field of Narcissistic Personality Disorder that I have found is not written about often is the narcissistic adult son or daughter.  Many people have written to me over the months asking how they should deal with their toxic children who have shown them time and time again that they have no respect for their parents.  Nothing the parent does is ever good enough.  Some believe the world owes them a living.  They threaten to withhold  contact with grandchildren unless their ever increasing demands are met.  How do you deal with this type of toxicity when this young person is someone who you have brought into this world?
Many parents blame themselves, thinking that it must be their fault that their offspring has grown into such an evil and toxic human being.  However, this may or may not be the case.  Remember that the cause of NPD is uncertain.
There are many theories which include:
1.  Over valuing as a child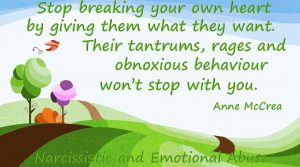 2.  A learned behaviour
3.  Genetics
4.  Abuse in childhood
The cause is most likely complex with the possibility of more than one factor being at the root of this disorder.
No matter how well meaning your intentions are, your kindness, attention, compassion, forgiving nature, none of it is ever going to be good enough.  They have an endless list of people who they believe have done them wrong, treated them unfairly, not loved them enough and sadly you are probably at the top of that list.
They hold within themselves, a fragile self esteem and a profound fear of abandonment.  They won't acknowledge their fears and their subsequent rages will remind you of their childhood temper tantrums.  Do you give in to this childish behaviour and give them what they want?
To give into their demands will simply invite more of the same.  They will blame you for their behaviour.  It's a result of what you did or didn't do when they were a child.  You will start to believe them and think that your parenting skills were somewhat lacking.  Don't be blackmailed or held to ransom by their behaviour.  They are adults now and need to learn accountability.  They are no longer your responsibility.
By ignoring their behaviour and giving in to their constant demands, you are acting as an enabler.  Don't let them mistake your kindness and compassion for weakness.  To do so will result in them pushing you to your limit forever and a day.  You cannot cure them with your love no matter how strong that love may be.  I have seen parents who cut contact for short periods of time only for a return of the same disrespect and toxic behaviour as soon as there is some sort of reconciliation.  Some parents want a peaceful life and think that they will achieve it by giving in to the demands of these 'adult kids.'  They won't.
 I've  heard parents say:
"I'm used to it."
"He's done it all his life."
"She's always treated me like that."
"That's just the way he is."
It's time to stop giving in and giving them what they want.  Let them know that you are not going to put up with their toxic behaviour any longer.  It's ok to demand respect.  It's your right.  Stop breaking your own heart by giving in to them.  You are not doing them any favours in the long run because their obnoxious behaviour, overstepping boundaries, tantrums and rages are not going to stop with you.  They will spill over into every relationship they encounter in the future.
Cutting off contact with a son or daughter is probably one of the most heart-breaking decisions any parent will face but sometimes this is your only option to restore your own sanity and bring some semblance of peace into your life.  You are justified and entitled to demand civility and respect.
Written by Anne McCrea