Educating Society about Emotional Abuse is Paramount
Educating Society about Emotional Abuse is Paramount
During these past few years I have been in touch with thousands of people whose lives have been shattered by emotional abuse.  Some of this abuse has come from within the family unit, from people who should have had their back but instead were the ones holding the knife.  Others have experienced abuse from 'friends' (I use that term lightly) or within the workplace.  Regardless of where this abuse comes from, the effects can be absolutely devastating.  To add to the pain that each and every one has suffered, these people often reach out to friends, family or professionals only to find that they are not believed or that the abuse they endured, is played down and considered trivial because there are no visible marks or scars.  This invalidation adds further pain to the individual who has suffered more than enough.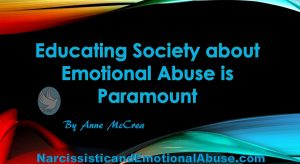 Unfortunately, people who have not experienced emotional abuse, have little understanding of the devastation caused by this form of maltreatment.  Sadly, this applies to many psychologists and therapists whose knowledge of Narcissistic Personality Disorder is somewhat limited.  These counsellors can do more harm than good.  In the cases of couples counselling, the therapist is often taken in by the narcissist and blames the target, not the perpetrator.  Narcissists are pathological liars who show no emotion when lying which is why they are so often believed.  They will also tell the truth in misleading ways giving the therapist an incorrect perspective, for example, telling part of a story where they talk about your behaviour, leaving out their provocation that made you react to their abuse.
'In order for couples counselling to be successful, both partners must be willing to take responsibility for their actions and make adjustments to their behaviour.  Abusive people want all the power and control in the relationship and will focus on maintaining that imbalance, even if it means continuing unhealthy and hurtful behaviour patterns.  Many callers to the Hotline have related stories of trying and 'failing' at couples counselling because of an abusive partner's focus on manipulating the sessions to place blame, minimize the abuse and attempt to win over the therapist to their side.'  (The National Domestic Violence Hotline)
It is imperative, when searching for a therapist or counsellor, that you ascertain they understand this dynamic and are up to speed on the subject of NPD.  There are many excellent counsellors out there.  Make sure you engage the help of the right one.
It is estimated that one in three targets of abuse will develop PTSD as a result of what was done to them. This is treatable with the correct help and support. Please click here for  more information on PTSD.
Society in general needs to be educated about narcissism, including therapists, law enforcement officers, judges, attorneys, and barristers.  Sometimes their lack of knowledge and understanding of malignant narcissism results in a target of such abuse being further abused by the judicial system or counsellors who are supposed to help them.  The uneducated tend to think that a narcissist is someone who loves themselves and have no insight into the long term psychological damage these people often cause.  This disorder goes way beyond selfishness and self-love, in fact, narcissists are often plagued with self-loathing and self-doubt. Although this type of personality frequently displays an air of grandiosity and arrogance, behind the false exterior there often lies a vulnerability and such a very fragile ego.  Their overreaction to some perceived slight can be absolutely devastating to those they target.
Professionals and the general public need to educate themselves on terms such as:
GASLIGHTING which is an insidious process which occurs over a period of time resulting in the person being gaslighted questioning their own reality and/or sanity. Please click here for more information on Gaslighting.
PASSIVE AGGRESSIVE BEHAVIOUR such as the silent treatment which is a favourite tactic of an abuser where all attempts at communication are met with deadly silence.  Please click here more information on The Silent Treatment.
Experts throughout the world use criteria in the Diagnostic and Statistical Manual (DSM) which is published by the American Psychiatric Association, to diagnose mental health conditions such as NPD.
The Mayo Clinic sets out the criteria from the DSM-5 criteria for narcissistic personality disorder:
Having an exaggerated sense of self-importance.
Expecting to be recognized as superior even without achievements that warrant it.
Exaggerating your achievements and talents.
Being preoccupied with fantasies about success, power, brilliance, beauty or the perfect mate.
Believing that you are superior and can only be understood by or associate with equally special people.
Requiring constant admiration.
Having a sense of entitlement.
Expecting special favours and unquestioning compliance with your expectations.
Taking advantage of others to get what you want.
Having an inability or unwillingness to recognize the needs and feelings of others.
Being envious of others and believing others envy you.
Behaving in an arrogant or haughty manner.
Diagnosis is by trained mental health professionals.  To be diagnosed with the rather unflattering label of Narcissistic Personality Disorder, one must possess at least five of the traits mentioned.  A common and very important trait, which is not mentioned in this list, is that of little or no empathy.  There are many who believe that as this is such a key aspect in people with NPD that it should have been included in the diagnostic criteria.
Many people have no understanding of why someone would remain in a relationship with someone who is abusive either emotionally or physically.  Some well-intentioned individuals will ask questions like, 'Why did you not just leave?'  If only it was a simple as that.  Targets of abuse may be beaten down over time with neither the desire nor strength to fight.  They may be tied to their abuser by a psychological phenomenon known Trauma Bonding.  Please click here for more information on Trauma Bonding.
People need to understand that recovering from narcissistic abuse is a lengthy process.  Never put a time limit on your recovery.  For some, this will take two or three years but sadly for many, much longer.  Give time, plenty of time.  Education is a key part in recovery.  No blame should be placed on a target of abuse. There is light at the end of this long, dark tunnel.  We just need to know how to switch it on.
Written by Anne McCrea
References
Mayo Clinic Staff, (2014), Mayo Clinic: Narcissistic Personality Disorder, [Online], accessed Feb 2016.
The National Domestic Violence Hotline, (2014), Why We Don't Recommend Couples Counselling for Abusive Relationships [Online], accessed December 2018.
Narcissistic and Emotional Abuse, Shattering the Illusion, now available on Amazon