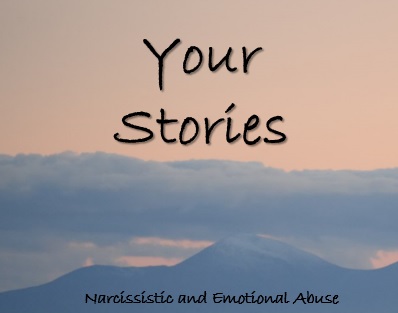 She was never really a friend
She was never really a friend
Losing a good friend is always difficult. Losing a friend with the realisation that the person was never really your friend at all is devastating. It's a double whammy in the loss of friendship that you valued dearly and the gradual reveal of what that person really was. I've spent way too many hours now on the internet trying to make sense of my experience and want to share my story for two main reasons. Firstly, most stories of abusive relationships on the web assume a role of partner, not platonic friendship and I would have liked to read about other people's experiences when the words emotional abuse first appeared on my radar and then secondly, given that no closure will ever be given by my former 'friend', I'm hoping that by retelling the story I can do this for myself.
It wasn't an instant bond that developed. I met this person and liked them but didn't really spend a lot of time with until several months after we met at an evening class. There was a little group of us that used to meet up and socialise together and I enjoyed the company. The special individual attention then got focused on me with many nights out arranged, almost daily chats on the phone and an eagerness to spend time with me that I found touching at the time.  I now realise that this was all part of the assessment process to see if I would make good supply or not. Very quickly from being part of a group, the friendship became more intense and exclusive. My suggestions to invite others along were rejected as it being better fun 'just the two of us' and I was flattered, sadly. Having recently lost my best friend of many years to cancer some months before, I can now see how ripe for the picking I was. It felt great to have a 'best friend' again. Someone who was always happy to see me, make plans at short notice, never say they were too busy and yet…sometimes I had a funny feeling in my gut. Some of her stories didn't always add up, some of them even sounded a bit unlikely and then the recounting of her terrible childhood, in the middle of a busy pub, with tears appearing then disappearing again almost as fast as I comforted her, and said how sad it was to hear all this.  But I submerged those feelings of doubt as me just being over analytical.
The thing about manipulative behaviour is that it is stealthy. You don't go from being adored to devalued overnight. It is more sly and subtle so you don't realise how your position has changed to always being in need of some correction, 'too sensitive,' 'too quick to overreact,' 'can't take a joke,' 'the most sensitive of any of her friends ever.'  Actually there were no other friends in evidence. I was much struck by this but the answer was that many of them had just lost touch over the years. One other name got mentioned but only in very derogatory terms. How she had been a good friend but had changed and now was just a user, was guaranteed to spoil a night out with negativity and she probably should just cut her out of her life. No surprise that the last time I saw my ex friend socially, she was sitting next to this woman at the pub.
The selfish, inconsiderate behaviour increased. Always late, never sorry, increasingly critical, demanding of my time, high expectations of what I should do but favours never reciprocated, not the person I first met who told me how much we had in common and what close friends we were.  Phone calls went unanswered, plans got cancelled on the day last minute.  And all under the veil of me being too sensitive if I reacted in any negative way to this. She would 'toughen me up' to do me a favour!!
She asked once 'what has happened to the easy going, cheerful person I used to know?' and I accepted this, although a bit puzzled and apologised for being a bit stressed from work, even though I didn't think I had been. This is the effect she had on me. She was so confident and had this air of always being right I assumed I must have been what she said I was. It's like a subtle form of brain washing where you lose sight of the actual facts to the version they tell you.
The last time we arranged to go out, she cancelled just as I was leaving the house to meet her. I'm an easy-going, placid kind of person who gives people the benefit of the doubt (perfect target really!) but that day I had enough and told her so in no uncertain terms. Her reaction was astounding. Screaming at me about who did I think I was, did I think I had some control over her, how dare I and how this was all too much for her but with a lot of swear words in there too! That was effectively the end of the friendship although I didn't realise that at the time. I tried so hard to make amends, to sort things out and build a bridge for the sake of the friendship I believed we could re-establish.  I know, mind-blowing even reading that myself! Her reaction was aloof and icy cold. I had suggested meeting up for a chat. She ignored my text for days then said she might consider it but was too busy at the moment. I felt totally bewildered that someone who a matter of months ago was professing how happy she was to be my friend was behaving like this. Then I discovered the concept of an emotionally abusive relationship on the internet and the rest began to fall into place. I gave it one last shot after a few weeks of silence. I regret doing so now but at the time it felt so important to try, in case I had got it wrong about what I thought she was. There was no warmth there, no acceptance that her behaviour had been even a bit inconsiderate, it was all my fault and she' had never had a problem with anyone like this before.'
Last time I saw her was at a birthday party of a mutual friend. I felt very nervous about having to see her. She totally ignored me whilst making a massive fuss of the people I was with, hugging them all and saying how great it was to see them (not having made any effort to see any of them for over a year) I felt angry and hurt but managed to hide it. In fact, I felt a surge of power from within and decided I would go and speak to her to not allow her to treat me like that. She was quick to blame me for the friendship failing , saying I'm 'vindictive' which is so far from the truth that I burst out laughing, but I now also know is just projection. Within five minutes of saying this, she was suggesting we meet up for a chat and a coffee the next day. This didn't happen as I realised it would be a very bad move and I declined the offer politely. And so that is it. Radio silence and I'm glad.
To anyone out there going through a similar experience, it hurts, it is unbelievably hard to wrap your head around the fact that someone who allegedly cared so much for you could treat you like this. Other people won't understand the depth of your hurt unless they have lived through a similar experience. They can't as none of it is comprehensible through 'normal' eyes. This is just a snapshot of the relationship.  In hindsight all the red flags were there from the beginning but it didn't seem that clear cut at the time.  I realised something helpful that last time I spoke to my ex friend though – she really is just a child in a grown up's body, lashing out, acting superior, trying to protect herself from her own feelings of inferiority and hurt. I don't know if she is narcissistic, sociopathic, a combination of the two or just manipulative and emotionally abusive but I'm realising it shouldn't matter as she was toxic to me and I need to ensure I don't ever involve myself with someone like her again.