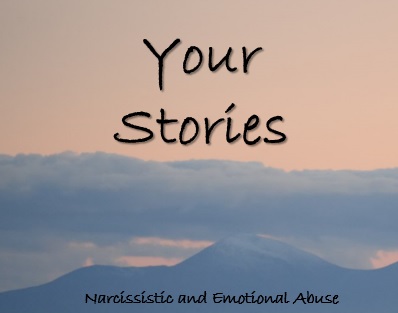 I've been used and abused most of my life
I've been used and abused most of my life
I'm in my 30s and was raised by a narcissist. If we didn't give in to or do what she wanted such as give her our attention, admiration, acts of service or if she couldn't use us and benefit from our success she would turn on us by trying to fight. She would cause arguments and make us seem like villains.
I've experienced her using her emotions/her position as a bio parent to manipulate us. She makes it hard for any of her kids to honour or respect her because it's one of the golden rules for a successful life, this narc knows that! She never raised any of her kids and drank through all nine of her pregnancies.
Later in life I experienced the lack of no parental healthy bonds which set me up for failures, lack of self love, respect and seeking love in the wrong places from drugs to partying and weak negative choices in guys. From age 21 – 32 my experience with negative men was the result of unresolved childhood trauma from my narcissistic mom. Basically, I didn't know I was crazy or my soul needed healing from past trauma and from ex narcissistic husband who even said that he only wanted to use me. He was mentally abusive, emotionally abusive, financially abusive, spiritually abusive and physically abusive with me a few times, all during the 7-10 yr relationship. When I finally left, boy did he work his butt off to make me look cruel and placed all blame on me. Before him my credit was ok. After him I'm paying more with still 5 repos & 2 evictions on my credit because all he did was sit and watch me struggle and probably laughed in his heart. What both past narcissists have in common is that they're now elders and still haven't changed and never will. If so it's before or on their death.
I've never been truly loved and I don't know what it looks like and I've never seen or had any true long healthy relationships yet, but despite this I've loved myself enough not to tolerate being everyone's doormat. I've been negatively used and abused most of my life and lied to but I don't go around and treating other's that way!
One of the many God Given Graces!!