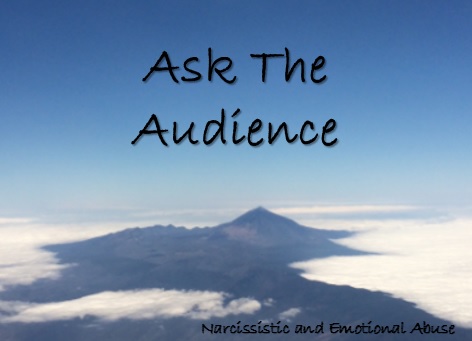 If you don't give me what I want I'll make sure your life's hell
If you don't give me what I want I'll make sure your life's hell
Has anyone else felt that their abusers turn to their church home or and huge ministries for prayers, pointing the fingers, blaming everyone else but themselves?  Narcs are always victims, we're of the devil simply because we won't be their financial spiritual mental door mats of toxicity, we're supposed to fight basically prove we're worth to be loved, respected basically be miserable on the account of people who really don't care and only hear one side have no experience or
understanding of any types of abuse & basically it's like narc can mentally emotional financial spiritual physically hurt  and abuse their family, hate blame others & start hate groups, if they just happen to get their stuff together.   We owe them our lives, have to reconcile but they've never had to suffer what or any judgements or karma! It's like I can stab you blame you and look I even called for help, I'm actually good you have no choices if you don't give me what I want I'll make sure your life's hell
and slander your name playing the victim blame game and I'm always
right.