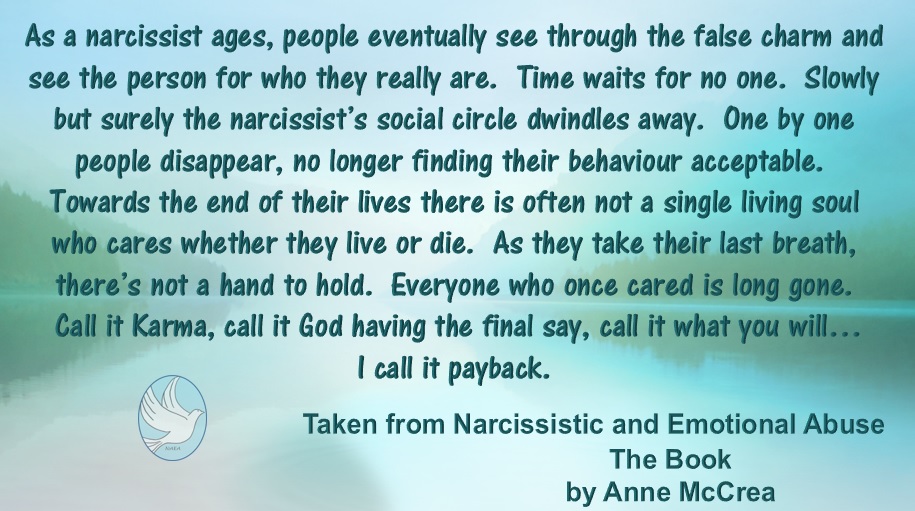 The Ageing Narcissist
The Ageing Narcissist
As a narcissist ages, people eventually see through the false charm and see the person for who they really are. Time waits for no one. Slowly but surely, the narcissist's social circle dwindles away, one by one people disappear, no longer finding their behaviour acceptable.  Most people who have crossed their path in one way or another have borne witness to their deceit and toxicity.   Towards the end of their lives there is often not one single living soul who cares whether they live or die. By the time the final curtain falls, they receive what I call poetic justice, getting back what they gave out to others all their lives. As they take their last breath, there's not a hand to hold, everyone who once cared is long gone. Call it Karma, call it God having the final say, call it what you will… I call it pay back.
Aging is a process that none of us look forward to but it IS better than the alternative. Most of us try to age with grace and dignity having gained wisdom through the years. A narcissist's behaviour tends to get worse with the passage of time. As time takes its toll on their looks and their health they know that admiration is a thing of the past. Time has taken its toll on their withered frame. They can no longer rely on their outward appearance to attract new supply.  They glare at the image staring back at them from the mirror refusing to accept the aging face before them.  Their mind is not as sharp as it once was. What have they left to look forward to?  Retirement?  Obscurity?  Insignificance?  We are always told to look on the inside, look at how someone treats others, look at their heart and look at their soul.  What's on the outside doesn't really matter.  It's the inside that counts.  What's on the inside of a narcissist?  Absolutely nothing but an empty shell.  As the years roll by the narcissist faces a complete loss of supply and lashes out at anyone unfortunate enough to be within earshot.
When the Narcissist is Left Alone
I have a strong belief that people who treat others poorly and have no empathy or compassion for others, will be shown no compassion in later life.  They have spent their entire lives abusing, betraying and demeaning others, knowing what they do and without giving a second thought for the pain that they inflict time and time again.  Friends and ex-partners have become enemies.  If their children haven't already become strangers the narcissist may try to buy their children's love in a feeble attempt to keep them close, believing that they may be the only people left on this earth who will put up with their pernicious behaviour.  These meagre efforts to be seen as a good parent may be welcomed by the child who has spent a lifetime seeking mum or dad's approval.  For others it will be too little too late.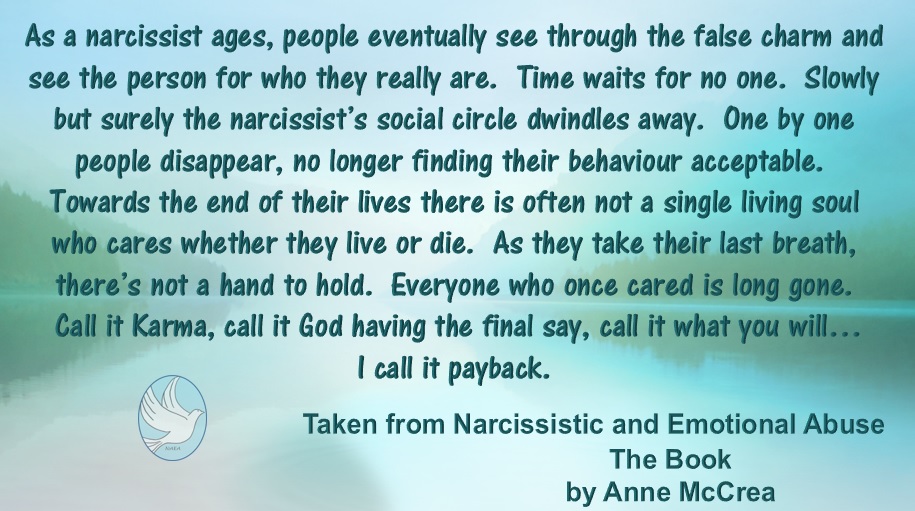 The narcissist is an immature, angry, volatile and controlling individual.  They have spent a lifetime  attempting to form relationships.  Sadly, it's not a partnership they are seeking but a dictatorship where they have all the power and control.  Eventually people get sick and tired of their behaviour and abandon them.  A string of failed relationships adds to their already fragile self ego.   By bringing about their own abandonment as a result of their abusive and despicable behaviour, they inflict upon themselves a deep narcissistic injury.  Somehow the narcissist will delude themselves into believing that their own self destruction is someone else's fault.
'An ironic twist of fate…
Their enemy will be their memories.
They can never undo what they've done.
They can't escape their thoughts
When they find themselves alone
Unloved and abandoned.
When their evil has been uncovered,
The truth will pursue them,
Wherever they go.'
 Anne McCrea
Much like a drug addict without their supply, the narcissist can't cope when supplies become scarce and run out.  They become chronically depressed and  angry and find no pleasure in anything.   Their noxious behaviour becomes more demanding and worse by the day.  Things that they used to enjoy, no longer hold their interest.  Their world has become hostile, their social life, non-existent.  No one wants to be in their company for any length of time.  They often become a hermit, closed off from the outside world blaming everyone else for the situation that they find themselves in.   The longer the lack of supply continues, the worse their insecurities and paranoia become.
The narcissist clings desperately to nothing.  They may create fake profiles on social media in order to stalk people, people that they may never meet or talk to.  Surfing the Internet may give them the opportunity to get a little attention from someone, from  anyone.  They've lost faith in themselves.  They don't like themselves and nobody else likes them either so they think, 'There's no point in being nice.'
Narcissists have an enormous fear of their own mortality.  As death looms near, they know that complete oblivion is on the horizon.  Life gives back to them exactly what they deserve, loneliness and isolation.  They find themselves being shunned and ignored.  The one thing that they never could control is time.  As they move forward to eternity they have the knowledge that there is a final Judge and this time, it's not them.
The Narcissist on Their Death Bed
I am often asked if a narcissist will change if they are on their deathbed.  Will they want to put things right and apologize to all those they have hurt in their lifetime?  Some people want closure and expect a change of heart from the narcissist as they take their last breath.  A deathbed apology is extremely unlikely. They are likely to die the same way that they have lived, hurting others.   Many will use this time to twist the knife in just one more time.
Don't beat yourself up if you decide not to pay them one last visit.  It is a matter of looking after yourself, a matter of self-protection.  There is no point of opening old wounds to satisfy the demands of someone who inflicted those wounds in the first place.  If they wanted your company, they should have shown remorse before this late stage and they should have acted better.
Pity them for being the person they are if you have to, but please be careful to never give them the chance to hurt you again.
Written by Anne McCrea