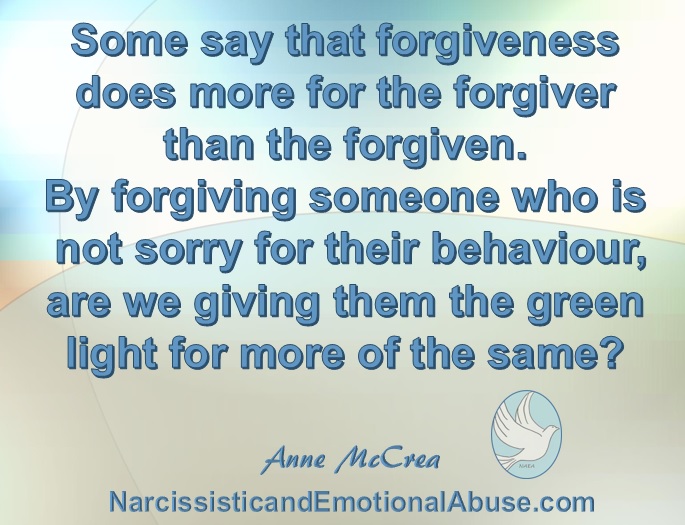 Forgiveness…Should We Forgive?
Forgiveness…Should We Forgive?
We often read that we should forgive the narcissist in order to be free and move on with our lives.   I'm not so sure that I agree with this.  Forgiveness is a personal thing.  It's one thing to forgive someone who shows remorse for their words or behaviour, is genuinely regretful and makes an effort to make amends and change their behaviour.  It's a different story altogether when someone intentionally hurts you, even takes great delight in doing so and doesn't give a damn how they make you feel.  Narcissists know exactly what they're doing.  Why would someone with such evil intent deserve our forgiveness?   In their twisted logic, they maintain control and a sense of pride in their despicable behaviour.  They may force themselves to apologise for their behaviour if it's to their own advantage but there will be zero sincerity.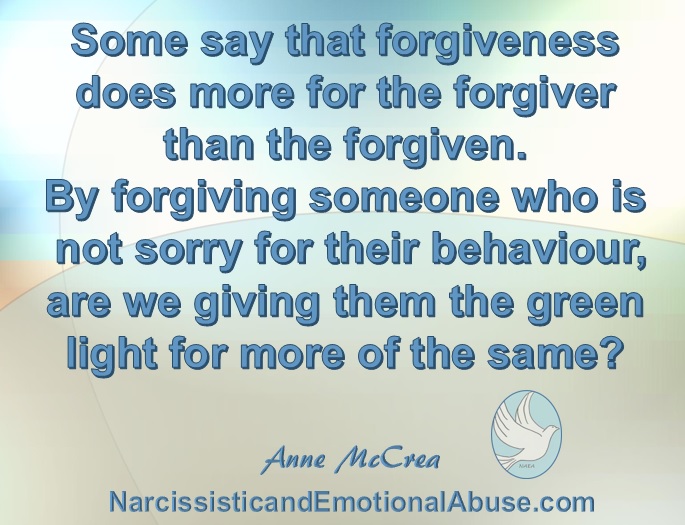 Without any semblance of remorse from someone who has wronged us and hurt us deeply, feelings of bitterness, hatred and sometimes revenge often bubble to the surface even within a person who is generally of a forgiving nature.  I believe that in most cases, these feelings will pass in time.
I know that this is such a debatable topic but when we forgive someone who is not sorry for their behaviour, are we not giving them the green light for more of the same?
I know that many people will say that forgiveness is necessary so that we do not become weighed down by bitterness and hatred.  I am often asked if I have forgiven my ex partner.  The answer to that has to be no, and to be completely honest, I don't think that I ever will.  He doesn't deserve my forgiveness and I know that I am not burdened with bitterness or thoughts of revenge.   I am relieved that he is no longer a part of my life.  There is a special place in hell for people like this.  The devil is looking forward to the day that he joins him.
I know there will be those who will disagree with me and say that the Bible tells us to forgive and that may be so, but then there are verses such as this one…
Luke 17.3
Take heed to yourselves. If your brother sins against you, rebuke him; and if he repents, forgive him.
I think we all need to do what's right for ourselves.  Some people will say that forgiveness does more for the forgiver than the forgiven.  I think the jury is out on that one.
Written by Anne McCrea